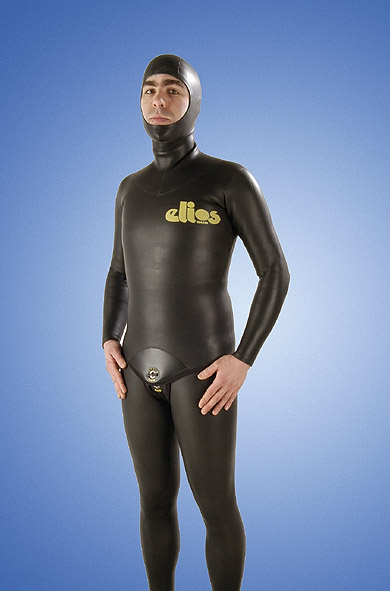 Without a doubt, the Heiwa Neoprene wetsuit is one of the most popular in the world for apnea and fishing. This is because it combines excellent features of compression strength, elasticity, robustness and good value for money.
Its rubber composition is also great for deep dives, providing comfort and an excellent thermal seal. Above all, it allows constant descent control without any unpleasant free-fall effect which might compromise insulation or a rapid and effective ascent.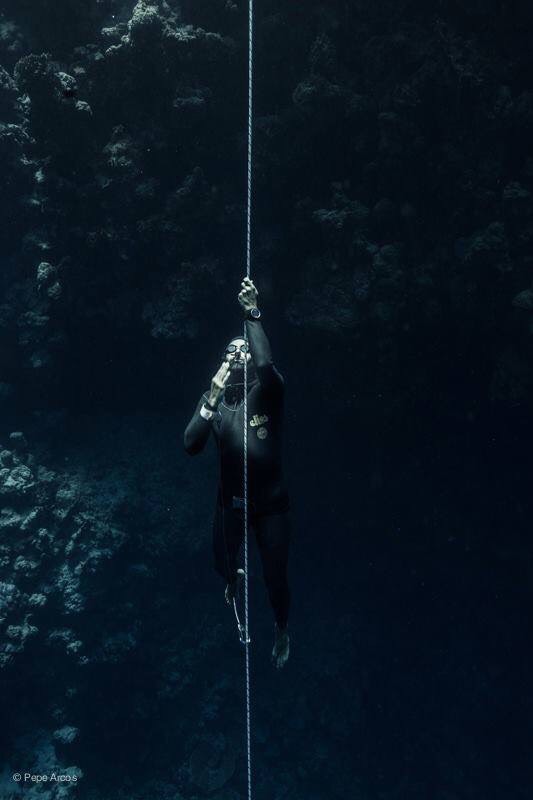 The top of the line is the Smooth / classic split version, which is excellent for both fishing and pure apnea. Despite the delicacy of an unlined wetsuit, it has excellent resistance to cuts and tearing. It's incredible how it always feels like a "second skin" as only this type of wetsuit can do.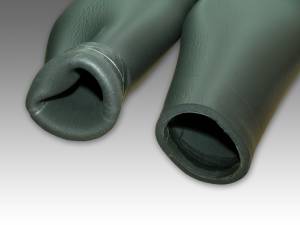 Our freediving wetsuits are made with "shaped" rather than "preformed" cuts to improve adherence to each body movement and not just predefined positions. These can strain the joints and generate the so-called "tangent" effect by creating annoying gaps when limbs are relaxed.
In addition, special rubberised reinforcements on the inside make this wetsuit more resistant to tearing. They also improve grip and closures at the wrists, ankles and around the face.
OPTIONAL:
Crossbow patches
Lined reinforcement at the crotch
Liquid out
AVAILABLE THICKNESSES AND MODELS:
3mm Smooth black/Open cell
5mm Smooth black/Open cell
6mm Smooth black/Open cell
7mm Smooth black/Open cell
8mm Smooth black/Open cell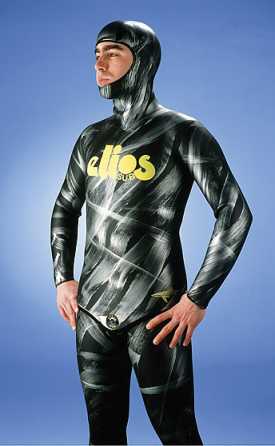 For those who do not want to give up the qualities of Heiwa neoprene, but want a more robust and easier-to-wear wetsuit, we suggest this model which comes with a smooth outer and nylon-stretch lined inner.
It's an excellent alternative to an unlined option. It's also easy to put on without the use of lubricants and is tear resistant.
Above all, it's reversible and can be worn inside out.
When greater hydrodynamics are desired, a smooth outer is in order. To protect against cuts and abrasions, it can be worn with an outer liner and smooth inner as well. This way, you have two wetsuits in one which can meet different needs and uses.

The new trends for this type of neoprene are particularly reflected in the 1.5mm or 2mm versions, which consist of a hoodless-or-not jacket and trousers combination which is perfect for dynamic and static apnea in a pool.
Comparative tests have shown that the 2-piece option is more performing than the classic one-piece with back zip as it has:
Increased hydrodynamic penetration because it is zipless

Greater comfort and elasticity

A superior thermal seal

A longer service life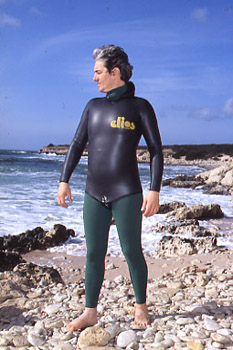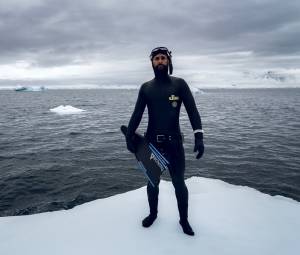 AVAILABLE THICKNESSES AND MODELS:
1,5mm Black Smooth / Nylon stretch Lined
2mm Black Smooth / Nylon stretch Lined
3mm Black Smooth / Nylon stretch Lined
5mm Black Smooth / Nylon stretch Lined
6mm Black Smooth / Nylon stretch Lined
OPTIONAL:
Crossbow patches
Lined reinforcement at the crotch
Liquid out