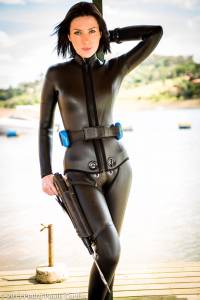 This is part of our special niche production line. It is sought after by people who love the vintage style of the first Neoprene suits made in the 1930s and 40s and has the classic open jacket, separate hood and high-waist trousers. These are remade and take on a second life through the use of new materials that duplicate and improve on the original model by enhancing fit and comfort.
This model maintains the essential nature of the classic suit and the simple linear design that characterised pioneer divers and underwater discoverers. This classic style is combined with high quality craftsmanship, the latest generation of high performance fabrics and hand-finished seams done in the best Italian tradition.
The Neoprene used comes in two specific options:
Smooth black exterior/ Lined super elastic Neoprene NJN inner or Smooth black exterior/Lined nylon elastic Heiwa Neoprene inner (this model has a polished look that is skin like. It's valued for its extreme slipperiness in water and high elasticity).
Ridged mesh exterior /Super elastic inner in Neoprene NL (ridging similar to early models on the market in the 1950s that had good resistance against tears and maintenanceof elasticity).
Elios Vintage Style wetsuite are available in a thickness of 2 mm/3 mm/5 mm. Also with a separate hood.
Classic fastener closure at the crotch and a central YKK zip on the jacket.
Custom Made or in Standard Sizes with numerous models to fit any body type:
For men's I – II – III – IV – V – VI
Special models: 
Short 1 – Short II- Short III- Short IV –  Short V
Long 1 – Long II –  Long III –  Long IV – Long V
For woman's I – II – III
Special models: Short 1 – Short II- Short II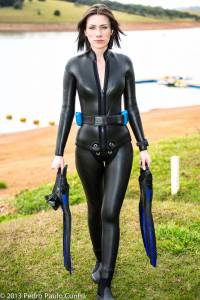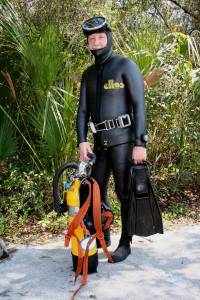 NEW FOR 2023:
the "Vintage" model is now also offered with the exclusive colored (yellow – red – green) Zippers that give a touch of originality and unique customization in the world panorama.